Home
About Me
Links
Trail Run Pics
Tech Articles
Jeepskate:
Suspension
Steering
Drivetrain
Body/Interior
Jeepskate II/XL:
Suspension
Steering
Drivetrain
Body/Interior
1 Last 7:
Suspension
Steering
Drivetrain
Body/Interior


Suspension
I purchased '1 Last 7' in January of 1999, bone-stock from the original owner. It's a fully-loaded 1986 CJ-7 Laredo with every factory option (including cruise control and a Dana 44 rear) except the Trac-Loc rear. It's gone through a couple of suspension revisions since then. When I bought it, the stock springs were pretty well worn and the shocks were shot. Rather than spend hundreds of dollars on stock replacement parts, I decided to go with a 2.5" suspension lift. I figured I wouldn't want any more than that, and if I eventually did, I'd just add a 1" body lift. I selected a 2.5" Superlift Super-ride due to price & reputation (this is the one I was *supposed* to buy for Alter Ego rather than the Pro-Comp, but I let the cheaper price entice me at the last minute), however I opted to buy it with Rancho RS9000's instead of the Superlift shocks. Next I purchased Tomken rear shackles and front towing/anti-kickback shackles, and Daystar greaseable spring bushing & bolt kits. Since it wasn't my daily driver yet, I took my time and installed the lift over the course of a week. Once it was installed, I loosened up the spring clamps a bit with a pry bar and took it on it's first trail run with a bunch of folks from Jeep-L at The Badlands. I also swapped on my 31" Dunlop Rovers from my S-15 Jimmy that I sold after buying the Jeep. After a couple of runs, I sold those and bought a set of 32" BFG MT's which I had siped at Discount Tire.
After the engine seized in October 2002, I decided to go ahead with some upgrades & replacements while the rig was down. I had been eye-balling Full-Traction's bolt-on shackle reversal and ended up ordering one of their first CJ production kits. I decided to go with a shackle reversal since this will be a primarily street-driven Jeep and I want my wife to be comfortable driving it...she always complained about the handling whenever she had to drive it. I liked the idea behind this kit because I could essentially leave the Jeep intact...I didn't have to cut any brackets off of the frame, so when it's time to restore the Jeep it can go back to original with a few turns of a wrench. The kit comes with front 'towers' that bolt on in place of the front shackle hangers, a brace that bolts in between the towers, and shackles that are very similar in concept to XJ shackles. One end is a tube that bolts into the spring hanger and the other is a 'typical' shackle end. It also comes with a pair of boomerang lift shackles for the rear. I did find a few glitches with the kit and instructions which I relayed to Full-Traction. Because of the size of the front shackles and towers, one set of the supplied bushings was too small and I had to replace them with another set of main eye bushings (luckily I had another set on hand). This probably makes the kit easily adaptable to YJ (or other 2.5" wide) springs. Also, the rear shackles aren't long enough (I have to call them back on this one...they didn't believe that they'd be too short so I told them I'd call back once the Jeep was back together and sitting ass-low). The front ends up getting lifted 2" since the towers are 5" eye-to-eye and the front shackles relocate the other end of the spring 2" lower. The supplied rear shackles are 5" eye-to-eye, but since only one end of the spring is being lowered, you only end up with 1" of lift out back. I sold those shackles and picked up a longer set off Ebay, but once the Jeep settled I was still 3/4" lower out back. I'll probably replace the rear setup with heavy duty replacement-type shackles and RE Extreme Duty 4.5" springs. Note that I re-used my greaseable hardware & bushings instead of the non-greaseable parts supplied with the kit. With my increased altitude, I needed longer shocks, so I ordered up a new set of Rancho RS9000X's (replacement for the RS9000 with more adjustability). Then I ordered up a set of 35" Dunlop Mud Rovers from Tire Rack and had them delivered to Len's Automotive up the street for mounting & balancing (it was a real treat shuttling everything back & forth in the back of my ZJ...and of course the latch on the hatch broke after the second run so I had to load/unload through the rear passenger doors).
The verdict? This puppy rides like a dream!! It doesn't even feel like I'm driving a short wheelbase Jeep. The extra fine-tuning afforded by the RS9000x's over the older RS9000's is a definite plus, and the Full-Traction SRS really makes a night & day difference on the road. The rear is a little stiff with the longer shackles and I'd expect that to clear up once I go back to 'regular' shackles and replace the 2.5" springs with the RE 4.5" springs.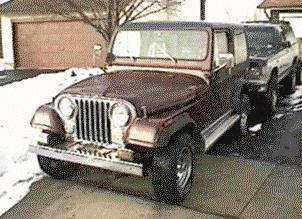 Look what followed me home...
Bone-stock shortly after purchase.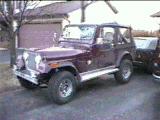 Out of the lab...
Sporting the new 2.5" suspension lift and 31's.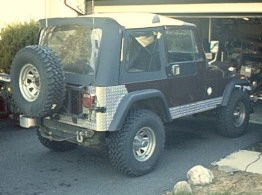 Grippy...
32" MT's w/TJ rear flares.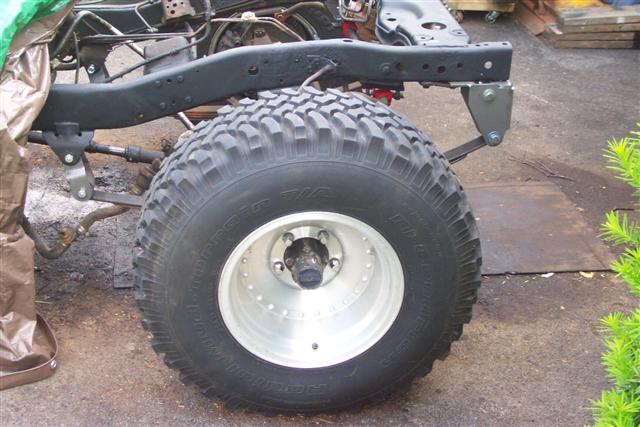 Reversal...
Installing the Full-Traction bolt-on shackle reversal.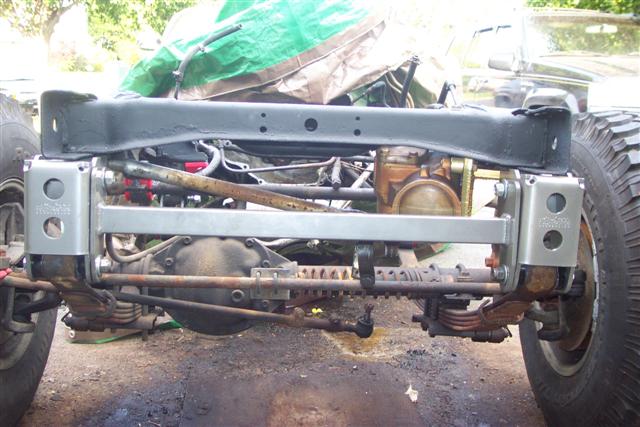 Braced...
Front shot of the reversal.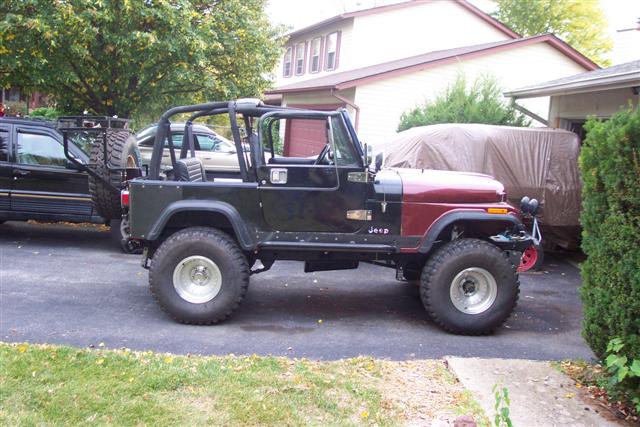 Higher Altitude...
Increased lift & new 35's, still a little low in the ass-end.