Home
About Me
Links
Trail Run Pics
Tech Articles
Jeepskate:
Suspension
Steering
Drivetrain
Body/Interior
Jeepskate II/XL:
Suspension
Steering
Drivetrain
Body/Interior
1 Last 7:
Suspension
Steering
Drivetrain
Body/Interior


I purchased this Jeep, a 1986 CJ-7 Laredo, in January of 1999 for $2700. My S-15 Jimmy daily driver was acting up once again and I was shopping for a conversion van for the family vehicle when I realized that it might not be such a good idea to be without a 4WD vehicle. I was just skimming through a Tradin' Times one evening and I ran across the ad for it, talked to my wife about, and went to check it out a couple of mornings later before work. The body was a little rough and it had a few quirks typical of a CJ, but I didn't see anything that was a deal breaker or that was a major item that I'd have to tend to any time soon. Turns out the seller was essentially the original owner as he had purchased it new for his daughter as a graduation present...asking price was $3500. I let him know I'd think of an offer and get back to him later in the day and as I was about to walk away, I remembered to take a quick peek at the rear diff. Yes!! Dana 44!! When I got to work, I mulled it over for about and hour, then called and offered $2700. He ran it by his daughter and she agreed and I picked it up on the weekend.
A couple of weeks later, I dropped it off at Midas for brakes & new exhaust, then stopped off at the tire shop after I picked it up and had them mount up the 31" Dunlop's that had been on my S-15. I drove it occasionally and worked out some of the kinks, installed a Superlift 2.5" suspension lift, put the original seats in storage and swapped in a set of '95 YJ seats with Bestop covers on them, put in a mild stereo system, added rollbar padding, etc. and did a few trail runs where it did surprisingly well. It was originally intended to be an occasional daily driver and weekend warrior. I didn't want to perform any permanent mods to it...everything had to be reversible with a standard set of tools.
Eventually my wife decided to return to the 9-5 world, so the Jeep became my daily driver and the weekend wheeling became almost nil. I ran into a lot of time constraints with my job, so I didn't have much wrenching time and both Jeeps suffered for it, and I also started tending to some major home improvements. Finally in November 2002, the engine gave up after a thrashing on the emissions test dyno, so the Jeep sat until Spring. During the down time I made my plans and parts lists and refined them and purchased parts. Finally in the Spring of 2003, I started stripping the Jeep down and rebuilding it. I lost my job during the Summer and was unemployed for a month before starting my new job, so I had another work slowdown. I was doing most of the work outside at the time and the Scrambler was in the garage, so before Winter set in, I switched them out so that I would be able to work on the CJ-7 during the Winter. I didn't have time to get much done between a big project at work and Cub Scouts, so I made another big push in the Summer of 2004 and finally got it back on the road in August. It took longer than planned and I spent more money than I originally planned, but I'm pretty happy with the end result. There's still a few items to tend to at this point (gears, paint, etc), but I'll deal with those in 2005.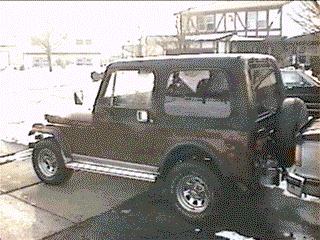 New acquisition...
At home after picking it up.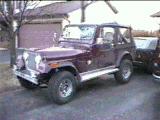 Let's roll...
Lifted and ready for action.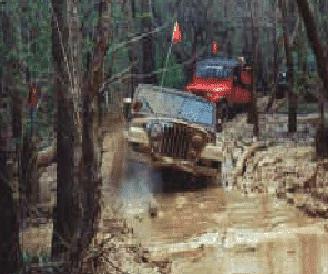 Now I know...
Why I try to avoid mud pits.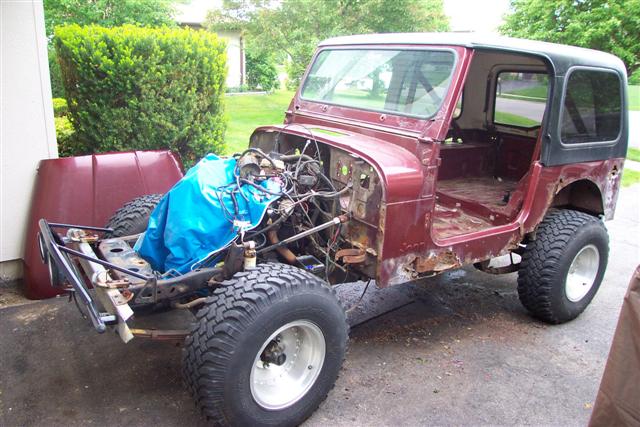 Take it off...
Stripping down for the 'restification'.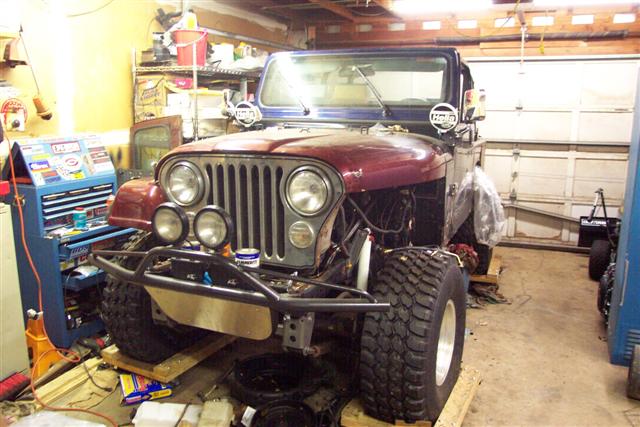 No Humpty-Dumpty...
Putting it back together.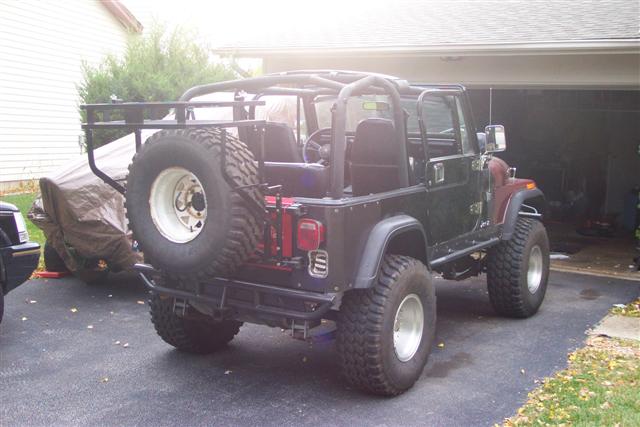 Almost 'done'...
Just needs paint, gears & some tweaking.